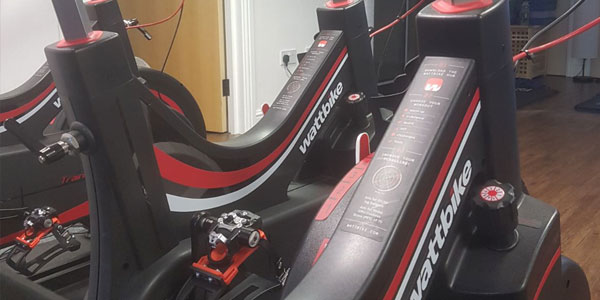 //

FTP (Functional Threshold Power) Assessment
FTP Assessments are not a separate class; Monthly fitness testing including FTP Assessments are part of monthly Coaching as standard. See our coaching page for more information.
What is Functional Threshold Power?
Functional Threshold Power (FTP) represents your ability to sustain the highest possible power output over 45 to 60 minutes, depending on whether you're a trained athlete or not. As a result 95% of the 20 minute average power is used to determine FTP.
Why measure FTP?
Regular assessments of your FTP give you an indication of whether you are improving your performance. Plus, FTP provides a good 'benchmark' on which to base cycling-specific training zones.
You can improve your FTP result by following one of our structured training plans.
- 1 Hour Duration
- 15 Minute Warm Up
- 20-30 Minute Test
- 10 Minute Warm Down
- 15 Minute Assessment Review and advice
FTP Assessments are part of the monthly coaching plan.
All Classes
Contact us to book
---
What do I need?
All you need to do is wear comfortable clothing and bring water and a towel.
Terms & Conditions
Please see Terms below.
New clients PAR-Q Form
PAR-Q/health and safety form that clients will need to fill out before consultation.
//

Terms & Conditions

1. Please ensure you bring a towel and water along to the bike class.
2. A PARQ pre class form must be filled in before attending a class. Download PARQ.
3. If you are feeling unwell please let us know and cancel the class 12 hours before.
4. If you have any medical condition please consult your GP before attending a class.
5. Wear comfortable clothing, cycling shorts with chamois insert are recommended.
6. Please wipe bikes down post session.
7. Please do not wear cycle shoes off the bike and within the studio.
8. Cycle shoes must be clean and muddy soles cannot be used on the bikes.
9. The pedals on the Wattbikes take Look keo or Shimano mtb style, the pedals do not work with any other system.
10. We do not change pedals on the bikes. If you want to bring your own saddle you will need to purchase a seat clamp direct from Wattbike or ourselves.
11. We do not change saddles, we have comfort and racing saddles available. If you want to use your own saddle you will need to bring your own Wattbike seat post and saddle, these can be purchased from Wattbike direct
12. Any ad hoc session is payable prior to session.
13. No fitness testing is carried out without the supervision of the instructor.
Sessions
//

Pilates / Wattbike

A 30 minute wattbike session followed by 30 minutes of Pilates, suitable for all levels.
//

Experienced

A class suitable for those that regularly exercise with high levels of intensity, and regularly cycle.
//

Beginners/intermediate

An ideal class to those that are new to indoor cycling and haven't exercised at high levels of intensity, perfect for starting cardio exercise.